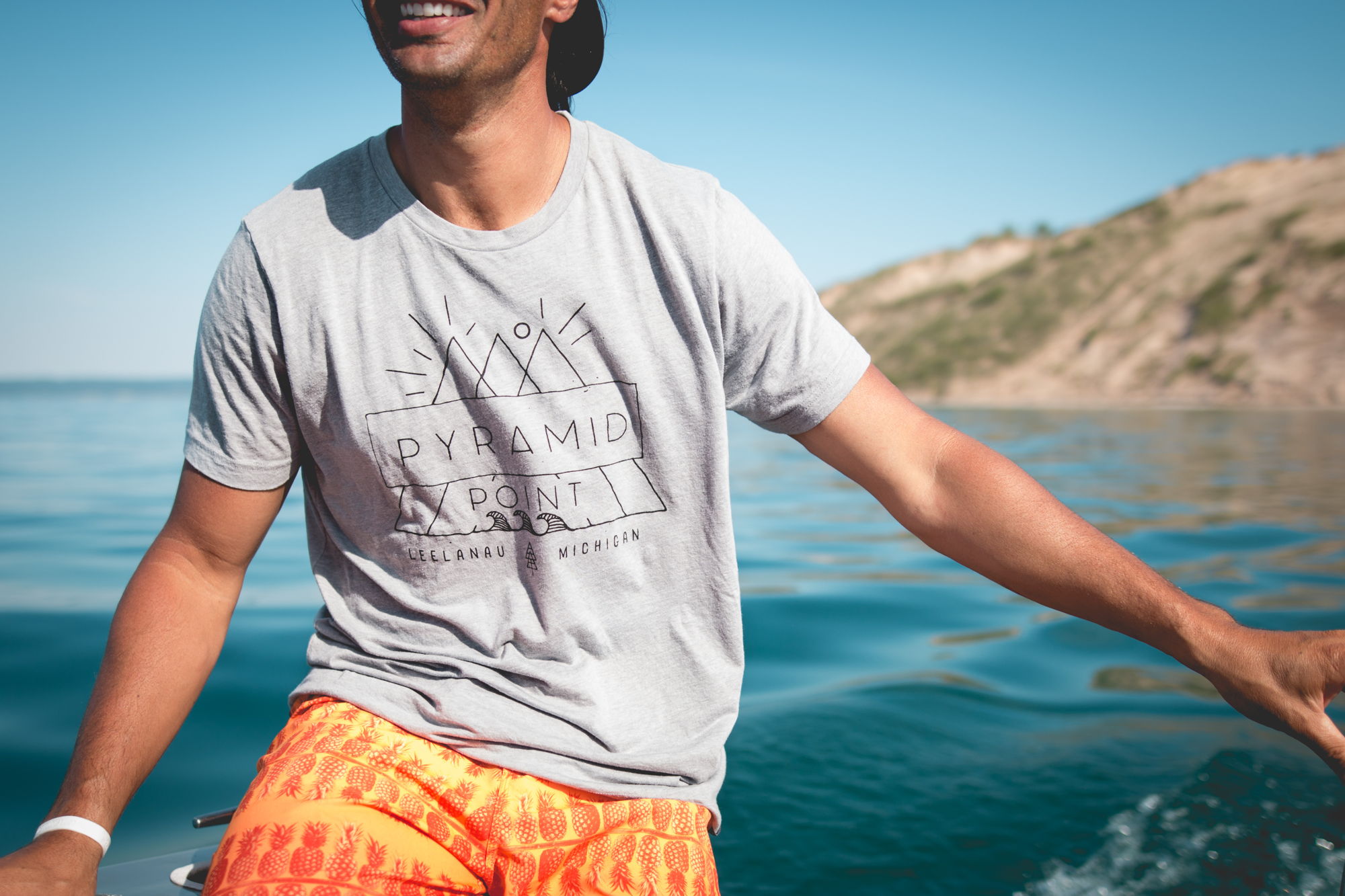 SUNSET AT PYRAMID POINT
Experience Leelanau County's most dramatic view with a twist—after the sun sinks into the horizon. A steep hike up to the bluff is worth the effort and the seclusion makes this perfect for dates or quiet relaxation. Bring a blanket, binoculars, and a bottle of wine, and you've got an amazing evening ahead of you.
MICROADVENTURE DETAILS
COORDINATES: 44.961853, -85.930159

LEVEL: Beginner (anyone)  

TIME: Medium (an hour or more)

TOTAL DISTANCE: 1.2 miles there and back

ACCESSIBILITY: Easy (pets allowed, parking on site, kid friendly).

THINGS TO DO:
Sand jumping, hiking, hammocking, snowshoeing, sunsets, star gazing.
Check out the amazing view of the Manitou Islands and lighthouse.

WHEN TO GO: Anytime, but we suggest evening to catch the sunset

HOW TO GET THERE:
40 minute drive from Traverse City. From the Traverse City M22 store, take Grandview Parkway to W 72, head west for almost 11 miles and turn right (north) on Maple City Rd/667. Continue until you reach the end of the road as it hits M-22 (about 9 miles). Turn left. In 4 miles, take Basch Rd on your right. Continue on Basch Rd until you reach the trailhead. (Tip: you can also skip past Basch Rd. on M-22 and take Port Oneida Rd to the trailhead instead; this is the more typical route. But, we think our way is prettier and easier. Plus, you get to see a cool barn).

WHAT TO BRING: Water (especially on hot days), snacks, camera, binoculars, and a headlamp or flashlight for the hike back down in the dark. For sunsets: a blanket and bottle of wine.

OPTIONAL SIDE TREK: Take the optional side loop to add another 1.6 miles to your hike. Most head straight up to the scenic area and back, so this beautiful section is often overlooked.

KICK IT UP A NOTCH: Try sand bowl jumping! Follow the sandy ridge eastward through vines and dune grass to find some of nature's perfect play areas (for adults and kids alike). Jump off the edges, roll down the banks, play a game of tag, or stand quietly to discover the unique soundproof phenomenon inside. 

TIPS: Watch for poison ivy! Here's how to spot it. For transporting wine in your pack, use a Mizu Thermos.
[powr-map id=a5734fba_1469124101]
PYRAMID POINT CREW T-SHIRT
Leelanau County's most iconic hike—for the locals who know and the visitors who are lucky enough to find it.